A

griturismo e

A

zienda

V

itivinicola

La storia della nostra famiglia ha le sue origini nell'amore per la propria terra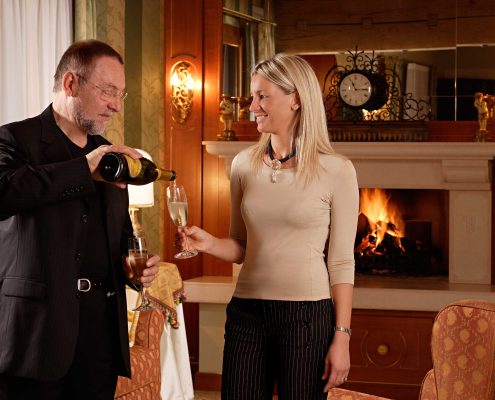 I love sharing my love for this ancient and generous land with my friends and Villa Almé was conceived with this Idea, to teach those who have never been here before the ancient traditions of a Veneto that is still partly unknown, but which has often been at the centre of European events throughout history. I can suggest an endless array of itineraries and in the evening my guests would find me here, to welcome them back with a glass of good wine, perhaps a chat by the fireside in the winter, or to spend an evening on the portico on a warm summer evening.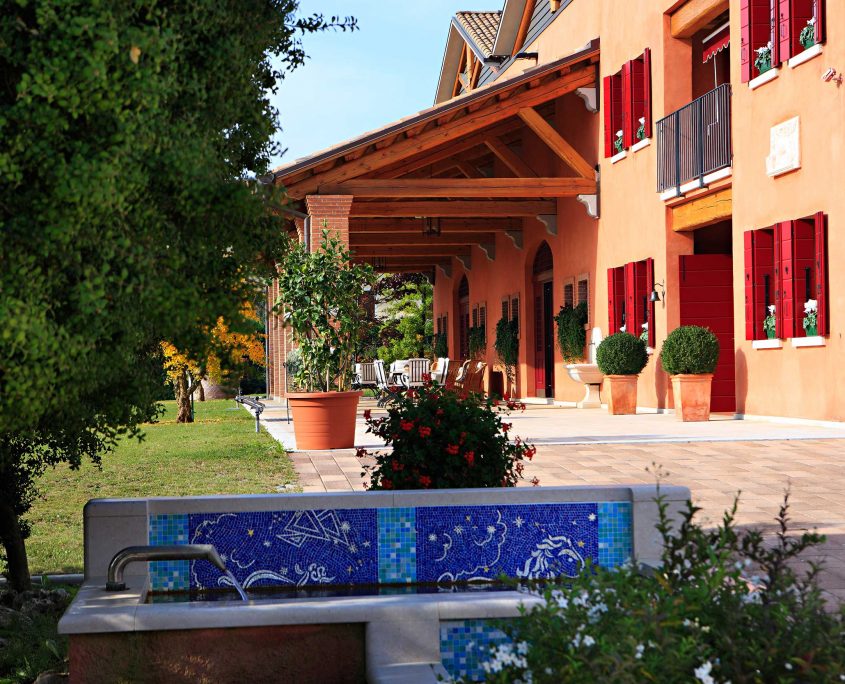 Like an old estate mansion, Villa Almè rises out of the green countryside, washed by the waters of the River Ràsego, a river with an ancient name of Longobard origins. e architecture is ideal for its setting, with a distinctive sequence of three roofs, a spacious portico and warm red brick walls.
Inside there is the large hall with a late 1700 baroque style atmosphere, with the warm wainscoting, Murano glass lamps…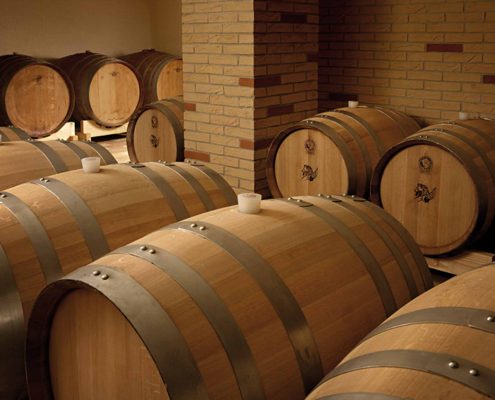 In 1995 Giuseppe Vizzotto bought his first plot of land in Mansuè, located in the east Veneto area between the rivers Livenza and Piave, to which he gradually added others.
Twenty-two hectares are covered with the characteristic geometrically planted
vineyards that bury their roots into the clayey alluvial soil typical of this land that has been worked and naturally adapted to vine growing.
The vine-growing and wine-producing enterprise has been growing year by year. Villa Almè has a fully equipped winery boasting state-of-the-art technology.
The production comes from totally replanted vineyards where great attention is paid to cultivation methods…
G

iuseppe

V

izzotto and his 

V

illa

A

lmè
"Ho battezzato questo splendido progetto Villa Almè in omaggio a mia moglie Almerina. E' lei che ha curato la scelta degli arredamenti, dell'oggettistica, dei tessuti. L'insieme piacevole e armonioso è frutto del suo innato buon gusto e dell'appassionata ricerca di pezzi d'antiquariato in perfetta sintonia con lo spirito e l'estetica della villa.
Qui ogni dettaglio esprime un ricordo, un'emozione, un sentimento. Ho voluto che la grande cantina avesse la volta in legno come le chiese di un tempo, ho voluto un sotterraneo per l'invecchiamento ma pensato anche come luogo accogliente da riservare alla degustazione, ho voluto gli intonaci in cocciopesto come si usava a Venezia, ho voluto mobili nello stile delle tipiche ville veneziane. Soprattutto ho voluto fare di Villa Almè un luogo in cui vive l'essenza di questa terra, dove si produce dell'ottimo vino ma dove si accolgono anche ospiti da tutto il mondo. Mi è sempre piaciuta l'idea di far conoscere il mio mondo a chi viene da lontano, di potergli trasmettere almeno un po' dell'amore che sento per queste contrade".
Its setting evokes the Venetian family houses of days gone by, harking back to the late Baroque of the 18th century, whilst being surrounded by the freshness and greenery of a series of woods and vineyards. It combines great elegance with a warm welcome. In winter guests can sample the house
wines by the fireplace, whilst in summer the wonderful garden is open, which is a fine vantage point for views of the Veneto landscape. It is a fine base from which to discover the old medieval centres and the surrounding countryside, as well as the museums and artistic monuments of Treviso, Asolo and Venice.
The accommodation offered in the villa consists of a suite and six generous-sized twin rooms, all with en-suite bathroom
and furnished with care and good taste.
All bedrooms have a telephone, air conditioning, an electronic safe, a refrigerated bar and satellite TV. On awakening, guests can enjoy a sumptuous self-service continental breakfast in the warm and comfortable surroundings of the breakfast room.
Villa Almè welcomes enquiries for private and corporate functions, tastings, dinners, banquets and conferences. The inner room, cellar, portico and garden can all be made available, along with an external Catering & Banqueting service, to create a sophisticated ambience for any event.
Very soon Bepi shared his bet on Raboso with Renato De Noni, a renowned Italian oenologist and successful sparkling wine producer. ey were both born on the sixth of April (both Aries which says a lot about their determined character) and in 2000 they decided to work together for the rebirth of Raboso, until then generally overlooked by the experts. eir aim was to create an unusual wine full of character, but true to its traditions, and this was the guiding idea that led to a very strong friendship. Raboso Piave found formidable support from them both to develop all its potential and become a noble wine.